More pictures of our dogs
Photo Gallery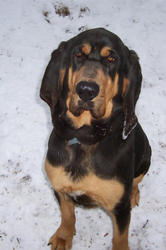 This is Bo, Bozer...he was the first born from the first bloodhound litter we had. He is a very headstrong and very loving boy! Bozer loves to play in the snow, he would jump up and dive down sticking his nose in the snow and then snort blowing snow off his nose! He is out of our Bear and Stormy.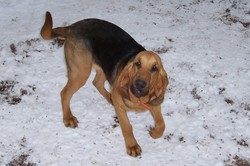 "Melody" playing in the snow. Mel is a lover and gives everyone kisses, so beware! you will get a slurp real fast from Mel!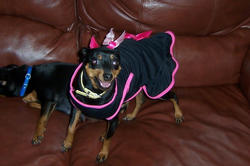 This is Sunshine wearing her new dress, she was very proud of it and was showing it off to everyone!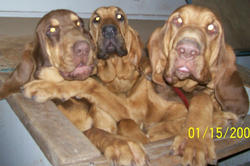 GROUP HUG!!!! Bonnie, Melody and Stormy. Three of the girls looking for attention from mom! "Come on Mom, lean over and we will give you kisses!"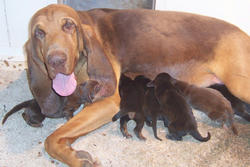 This is Ms Stormy with her 2006 litter of puppies. Doesnt she look happy and very pround of herself!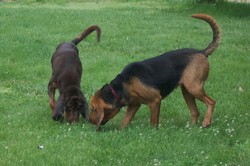 The black and tan is our Roxy and the liver and tan is Bodean, dad to Bonnie. Bodean belongs to Jodi in LA.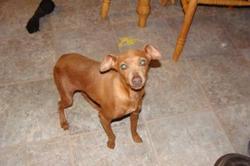 This is America, she is a true tan minpin with natural ears. Amer came to live with us in March of "09". We are calling her Amer for short. She is a very loving dog, loves to curl up beside me on the arm of the chair feet sticking in the air or in my side! :)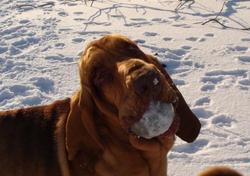 Gunner playing in the snow, bloodhounds love to run in the snow and he loves to play fetch even with a ball that was coated with snow and doggy drool!