About
About our family, two and four legged.
Here is a little history behind our site. We want you to understand the family our puppies come from, why we raise them, and how much we really LOVE it.
We raise our puppies on a small farm in southern Missouri. The doggies are first our friends, pets, and companions. They keep us company and give us a lot of enjoyment. Our family consists of myself, Patricia, and my husband Donald. We have two children; our son Donavan and our daughter Danyiel. Donavan still lives on the farm just down the lane from us with his wife Josie and two children. Danyiel and her husband Anthony with their children live close, just five minuets away, and Danyiel still helps out with the puppies as well and the oldest Grandkids loves to play with the new little ones when we have them. We all spend time with the dogs and puppies, though I spend the most time with them as I take care of them, feed, water, and run to the vet's for checkups.
We started hobby breeding several years ago, in 1989. At that time we were raising Shar-pei. We learned a lot about breeding, raising puppies, coat conditons, coat colors, and overall health of the dogs. All of our loved Shar-pei's have passed on to doggie heaven, Countess Coca was the last to leave us in the late fall of "07" at the age of 13 years. She enjoyed her retired life and still loved the company of our puppies up to the end.
We believe in feeding a good quality dog food to our babies and adults. We feed Diamond Naturals and ProPac Ultimates brand dog food. Our baby Min Pins are on Diamond Natural's small breed puppy formula, which is a chicken and rice formula. Our baby Bloodhounds are on Diamond Naturals lamb and rice large breed puppy formula. Our adult Min-Pins are eating a mix of Diamond Naturals adult lamb and rice and Diamond Naturals chicken and brown rice formula. Our adult Bloodhounds are on Diamond Natural lamb and rice. We believe the more natural the dog food formula the better it is for your puppy or adult dog. We don't like dog food that has a high content of corn fillers as they are not good for dogs. We also use NuVet vitamins, which all of our puppy's are on before they leave us. They are an all natural human grade vitamin that has been formulated with the health of your pet as top priority and we do ask you order those for your puppy at least one week prior to your puppy leaving us.
In 1990 we bought our first Min Pin as a pet only, his name was Spike. Spike had a long and happy doggie life with us. He was pulled around in the kid's wagon, ridden in bicycle baskets, and has worn more doll dresses than he cared to discuss! We lost Spike after 19 years and 8 months in March of 2010. He will be remembered always!
In 1998 we bought our first Min Pins to raise puppy's from, as our daughter Danyiel wanted little puppies of her own to raise. This was going to be just a couple of girls and one boy. We started with CD, a black and tan female, Niki a black and tan female and Buddy, a black and tan male. CD came from Nixa Missouri and Buddy and Niki from the Traylers, very nice breeders, in Pottersville Missouri. We have kept puppies from them and bought more puppy's and dogs as time has passed. We have the different colors of Min Pin's; black and tan, black and rust, chocolate and tan, blue and tan, and tan with rust markings (fawn) and the merle version of those colors as well. We now have a little over 2 dozen Min Pins. Some are just pets, some are raising puppies for us, and some are retired. We have a small kennel which has heat and air conditioning where part of the doggies live and we also have a nursery building set up just for the moms and new puppies. Some of the puppies are raised in it, and some are raised in the house. Our dogs are allowed to run outside and are able to go inside in the heat of the summer day or the cold winter days and nights. They have doggie doors and yards to run in. Ahhh the leisure life of a dog! Some of the dogs live in the house as some are just really extra special babies to us! It does seem that our lives no longer revolve around our 2 legged children, but our 4 legged ones!
It was in 2002 with the addition of more doggies to our household we decided it was time to build a house for the dogs as well. We then built the kennel nursery for the doggies to whelp in and a doggie home for the adults to relax and spend part of their day in. They have heating, airconditioning and set up just for the wee doggies comfort. We are also licensed and inspected by the state of Missouri and USDA as that is a state and federal law now.
In 2003 my son wanted a Bloodhound. With no intentions of raising big dogs that slobber...we bought our son Donavan our first male, "Bear" from some really good breeders ,Oberbecks in Lebanon Missouri. Bear is a saddled black and tan. Bear was such a joy and fun to play with that we decided to get a girl friend for him. We made the trip to northern Missouri to the Morrison farm where we picked out our liver and tan girls. Yes, we went for one but fell in love with two. Not able to choose between the the two, we came home with Ms Copper, a full coated liver and tan, and Ms Stormy, a saddled liver and tan. Thank you Morrisons for two awesome beautiful girls! In 2005 we kept a puppy from Ms Copper and Bear, a saddled, black and tan, which we named Roxy. In that same summer we also found Jenny Ann, who was already two years old; a red. She originated from Neil's in Hartville MO. In the summer of 2006 we sadly lost our Ms Copper who's paw tracks will never be filled, though through some miracle of fate, one of Ms Coppers spring babies, Bonnie who looks remarkably like her mom, came back to live with us, we call her Bon Bon, she is very loving and is alway ready for attention! In Dec of 2006 we had Melody come to live with us, Mel for short. Mel is a saddled black and tan out of some really nice import lines. The first of 2006 we kept a tiny bloodhound baby I named Punky from a litter. I bottle raised her because she was so small and being pushed back, she was spayed at 6 months and was just a special spoiled baby. In 2007 we imported our new boy Gunner. Gunner is out of Champion bloodlines and is an awesome built liver and tan! Then in the Winter of 2009 sadly we lost Jenny Ann and in May of 2010 we lost our Punky who was my little girl even at close to 100lbs to a tragic accident, another sad day for us.
We also raised Carlin Pinschers for a few years working on the lines in order to improve build, size and temperment. Carlin's are mainly a hybrid mix of Minpin and Pug. In 2013 with the decision that we needed a bit more time with the human grandbabies we turned the Carlin lines over to a good breeder in the West Plains area, Dana Tompkins. She is working on the lines adding to them and doing a great job.
Thank you for taking the time to read about our family,
Patricia
You can say any foolish thing to a dog, and the dog will give you a look that says, " My God, you're right! I never would've thought of that!" ---Dave Berry

When GOD had made the earth and sky,
the flowers and the trees,
He then made all the animals
and all the birds and bees.
And when His work was finished,
not one was quite the same.
He said I'll walk this earth of mine
and give each one a name.
And so He travelled land and sea
and everywhere He went,
a little creature followed Him,
until his strength was spent.
When all were named upon the earth
and in the sky and sea,
the little creature said Dear Lord,
there's not one left for me!
The father smiled and softly said,
I've left you to the end.
I've turned my own name back to front
and call you DOG, my friend.

(Unknown author)

Bear with pug puppy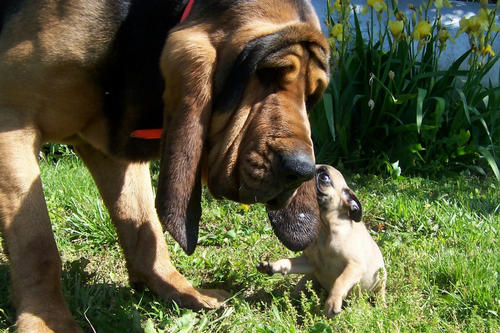 If you email us and do not hear back within 24 hours, please call us at 417-746-4766. We always answer our emails, but sometimes they just do not go through. I am sure there are times your emails do not get through to us either. Thanks!
.
Email us at:
NuVet all Natural Vitamis are a good health start to your puppy's life. We give 1/2 wafer a day to the puppy's. You can order your puppy's bottle of vitamin wafers with the link below.